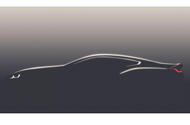 BMW will resurrect its 8 Series badge for a luxurious Mercedes-Benz S-Class rival; two-door layout likely
The BMW 8 Series name will be resurrected on a new flagship model in 2018, as part of moves to provide greater competition to long-time adversary Mercedes-Benz and its S-Class coupé, as well as the Bentley Continental GT .
BMW boss Harald Krüger confirmed the 8 Series will be launched in 2018 while talking at the firm's Annual General Meeting today. A concept car will be revealed at the 2017 Concorso d'Eleganza Villa d'Este in Italy on May 26, before the production car goes on sale next year. This suggests the production car may be revealed at this year's Frankfurt motor show.
"The BMW 8 Series Coupe will build on our tradition of luxurious sports coupes and add a genuine dream car to our line-up – a slice of pure automotive fascination," said Krüger. "The 8 Series Coupe will underpin our claim to leadership in the luxury segment. I can tell you today that this will be a true luxury sports coupe."
BMW 8 Series - what we know
The BMW 8 Series is planned to be a technological flagship with driveline components, multi-material architecture, electrical system and connectivity solutions closely related to those used by the recently introduced sixth-generation 7 Series. It will be built at BMW's Dingolfing factory in Germany from 2018, Autocar believes.
While shrouded in secrecy, insiders at BMW's R&D centre in Munich suggest that two differing layouts for the 8 Series were put before BMW chairman Harald Krueger, who is personally driving plans to extend the BMW line-up to include additional luxury models.
The first adopted a four-door layout and iwa described as being "similar in concept to the BMW 6 Series Gran Coupé only bigger and nobler in appearance". An alternative layout calls for a more classic two-door coupé and cabriolet pairing. The teaser image released as Krüger spoke suggests the two-door concept is the more likley to make production.
Among the reasons behind Krueger's push to extend BMW's reach at the upper end of its line-up is the continued success and profitability of the Mercedes-Benz S-Class and its various derivatives in key markets such as the USA and China.
Mercedes-Benz managed to shift more than 125,000 S-class models in 2015. This compares with 36,364 sales of the BMW 7 Series.
With the introduction of the new sixth-generation model, BMW expects 7 Series sales to increase to around 70,000 in 2016, although officials acknowledge it will still trail the Mercedes-Benz S-Class for overall sales this year.
Internal studies carried out by BMW suggest Mercedes-Benz earns up to 30,000 euros on each S-Class model it sells. The difference in worldwide sales volumes means Mercedes-Benz earns up to 1 billion euros more than BMW with the S-Class compared to the 7 Series.
"With the decision to bring back the 8 Series, Krueger is looking at a potentially lucrative revenue stream with high profitability on a per unit basis," a BMW senior manager revealed to Autocar. It was also suggested that pricing of the new car would distance it from Rolls-Royce models.
Rumours of a return for the 8 Series name stretch back to 2010, but bosses officially denied that any plans to bring back the nameplate existed in 2013, when the German firm unveiled the Pininfarina-designed Gran Lusso concept. The original BMW 8 Series was built from 1989 to 1999 as a two-door coupé.